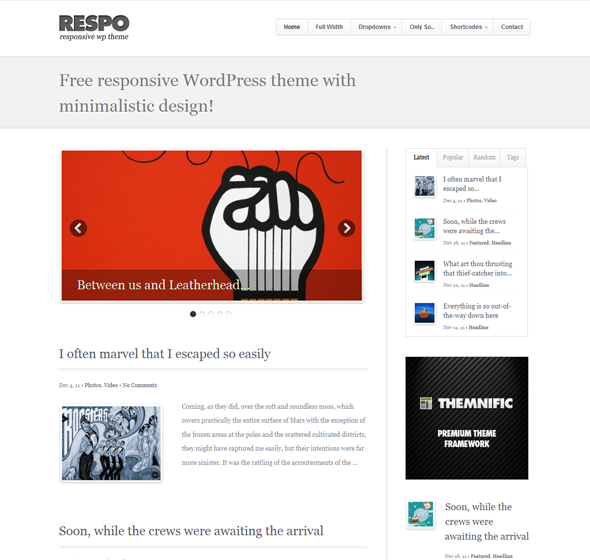 RESPO – Free Responsive WordPress Theme
8. Oktober 2013
Respo – Free und voll ansprechbar WordPress-Theme.
Respo ist ein erstaunliches WordPress-Theme mit sauberen, glatten und kundengerechten Layout. Das Thema eignet sich für presonal Blogs und / oder Online-Magazine.
Dies ist eine Responsive-Theme, das in der Lage ist, das Layout an die Bildschirmgröße Ihres Besuchers anzupassen. (veröndern Sie die Größe des Bildschirms und sehen Sie selbst) Die Schieberegler für dieses Thema anspricht, zu, was bedeutet, es funktioniert super auf mobilen Geräten wie iPad oder iPhone.
Respo – Free and fully responsive WordPress theme.
Respo is amazing WordPress theme with clean, sleek and customizable design. The theme is suitable for presonal blogs and/or online magazines.
This is a responsive theme, able to adapt its layout to the screen size of your visitors. (try resizing the screen and see for yourself) The sliders for this theme is responsive too, which means it works super sleek on mobile device like ipad or iphone.
Schlagwörter: responsive webdesign, Wordpress